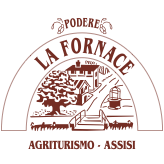 Your vacation starts with the trip
Environs
La Fornace's location is such as to allow access to many different areas of remarkable renown.
The proximity of the Podere (farm estate) to cities of arts and many other places of naturalistic interest guarantees unforgettable vacations to our guests.
La Fornace organizes GUIDED TOURS, in Italian and English, to cities of arts: Assisi, Perugia, Spello, Montefalco, Bevagna, Gubbio, Todi and Orvieto, in the company of an expert art historian.
Spello (14 Km.)
Spello rises between Assisi and Foligno, on a buttress of Mount Subasio, right above a fertile, well-watered plain.
Among the cities in the area, it is certainly the one that numbers the largest number of Roman ruins; the city walls that have been used as a foundation for the Medieval walls; the ruins of the theater, the amphitheater, the thermae and the splendid Porta Consolare, Porta Urbica and Porta Venere of the Augustean era.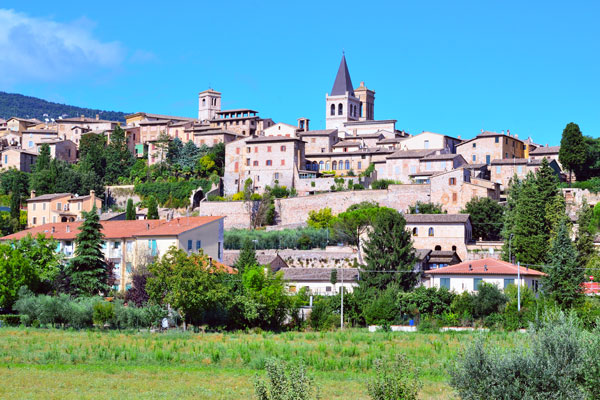 Spoleto (40 Km.)
Spoleto, while still showing visible traces of the Roman era, has preserved a substantially intact early Medieval aspect, due to the time when it flourished as a Lombard Duchy, to then become an important center of the papal state.
Visitors lucky enough to visit these places will certainly be impressed by the entire compound of the 13th-century Duomo, which contains a rich array of interior furnishings and splendid Byzantine mosaics on the façade; as well as by the Romanic church of Sant'Eufemia.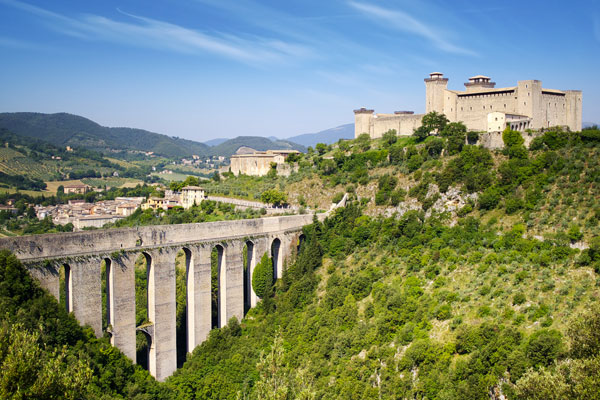 Perugia (16 Km.)
Perugia, the great "Arce Guelfa" rises at the heart of the region, with its 5 historic districts surrounded by the Etruscan walls: huge bulwarks of Cyclopean boulders erected 22 centuries ago and visible for long stretches.
Among the most important cultural events held in the city, the Umbria Jazz Festival and the Eurochocolate Gastronomic Festival deserve a special mention.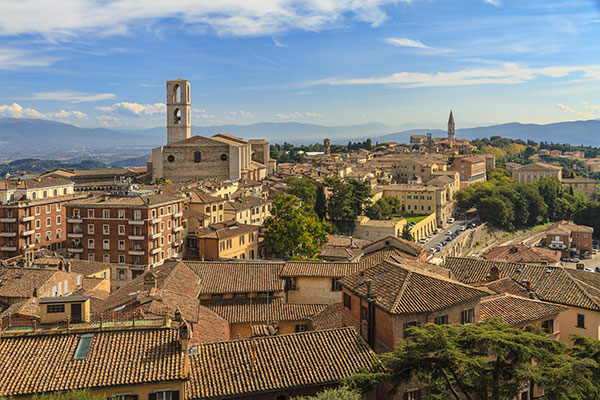 Assisi (3 Km.)
Those who have the fortune of visiting this splendid city cannot but admit that its beauty extends beyond the short and necessarily incomplete list of extraordinary places to see; rather it resides in the atmosphere of this place, which history and the faith of a Saint have made uniquely famous worldwide.
Tourist shouldn't stop after visiting the renowned Saint Francis Basilica, but also check out the stunning churches of Santa Chiara and San Pietro.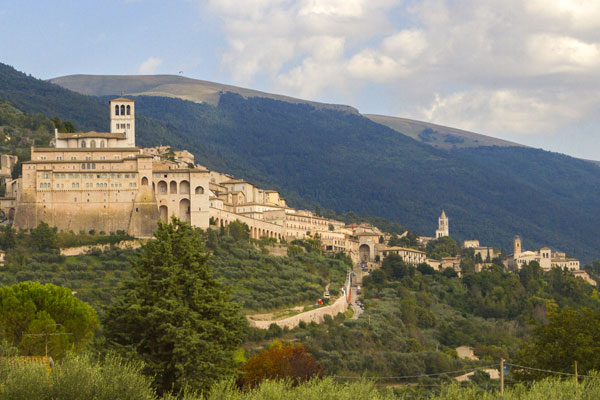 Gubbio (45 Km.)
Located on the lowest slope of Mt. Ingino, Gubbio is one Umbria's most ancient cities, miraculously preserved over time and rich in monuments that are testimony of its glorious past.
It is here that the world-famous Iguvine Tables were discovered, the largest surviving text in ancient Umbrian and maybe the most important Italic document. The Roman Theater, located just outside the surrounding walls, is another important landmark. Dominated by the monumental Basilica di Sant'Ubaldo where the intact remains of the city's patron saint are preserved, Gubbio contains masterpieces of architecture that remind visitors of the power projected by this city-state in the Middle Ages.